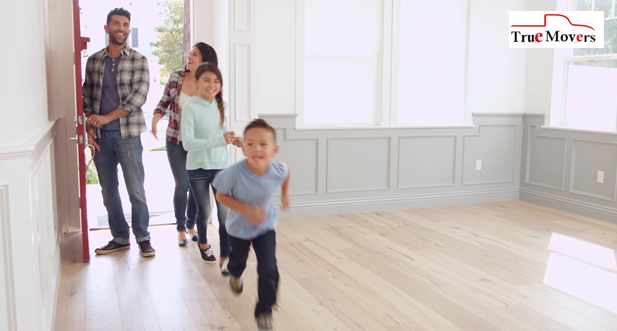 Looking at it that way, your very first move was most likely to be with your parents sometime in your childhood. However, it is now over with "TrueMovers"! It is time to take this step alone.
At last you move out of your home and start your own household. The decisions about your schedules, daily routines, how the furniture is arranged or what is cooked on which days, are entirely in your own hands – of course, if you move into the new home with your partner, everyone will take part with. However, this huge new milestone brings with it new responsibilities, which can be a great challenge for you. In today's blog post, we've written you 6 inevitable things to remember when you first move:
The first move – The rent
Sign your first lease and what is also very important, read this through exactly. This piece of paper contains important information for you as a tenant and is a legally binding document. Check if, in addition to the usual utilities, electricity, cable and internet are included in your rent or if you will take care of these connections and bills yourself. Also pay attention to certain clauses that could put you at a disadvantage. If you are unsure, you can sign your lease – before signing! – Have it checked by a lawyer.
Important side note: your first move will most likely not be your only move. To ensure that your departure from your first apartment no unpleasant surprises waiting for you, it is important to read through the period of notice, which is anchored in your contract.
The insurance for your first apartment
Your new and above all independent life begins. Therefore, you will definitely have to deal with insurance deals. To protect your new home and property from being damaged, you will need to take out home insurance. For example, as water or fire damage could occur again or it may even happen that burglars are doing their mischief. Right, even your first own household deserves a good hedge.
Our Tip: Get information from parents, friends or other family members who have experience to find out which option they have chosen. It often happens that as a family member you can negotiate preferential conditions with the insurance company of the parent or guardian. If necessary, you can of course easily snatch comparison offers on the Internet.
Which contracts do you have to conclude?
What other types of contracts will you need? There are a few contracts in addition to the lease that are likely to be completed. Services such as the telephone line, the Internet or the TV are only rarely included in the rent in Bangalore. Therefore, be sure to know exactly which basic services are listed in your rental agreement. In addition, you should also take care of the power supply, if your apartment gets the power from the primary care, it might be worthwhile for you to change the provider.
Set up finances
Set the household budget … At first, this may seem a bit overwhelming. Your own first household arrives with monthly bills, how much in return is your monthly income and what are your fixed costs – insurance, rent, electricity, internet? Are you left with enough money for food and leisure activities? Or do you have to adjust the fixed costs instead? In order to find the financial compensation and avoid debt, the budget helps you enormously.
Furnish your first home
While moving into your new home, it is not just about planning the move, but also planning the furnishings and home furnishings. You start in your first independent household accordingly at "zero" with the TrueMovers. To make things easier for you, we have put together a shopping list with the most necessary inventories as an extra. To look for cost-effective basic equipment, the flea market or the variety of portals, where there are used furniture to buy, good places. Even try to get discarded furniture, household appliances or dishes from family and friends. With these funds, you can save a little money right away!
Reregistration and your address change
Good news: in contrast to the previous points, the change is usually not a big effort. The first move must be reported to the registration office. The first way with a change of address due to a move leads you to the Bangalore. Furthermore, you should consider the TrueMovers service of Bangalore Post. The following is an overview list of institutions that need to be informed when moving from the change of address:
Bank
insurance
Tax office (only necessary when moving to a new city)
employment exchange
health insurance
pension Insurance
Car Re-register
Well, if you pay attention to these 6 points, your new life can take its course without any nasty surprises!
The first self-employed household is an exciting challenge.
We hope to have helped you a lot and wish you every success in your newfound freedom!
Your Friendly Packers and movers ( TrueMovers ) Service.